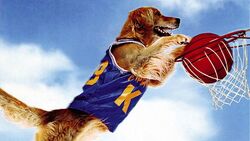 The Air Bud film series (also known as Air Buddies or Disney Buddies) is an American film franchise based on a sports-playing golden retriever named Buddy, portrayed by Air Buddy. The franchise began in 1997 with the theatrical release of Air Bud, followed by the theatrical release of Air Bud: Golden Receiver in 1998. The rest of the films in the series were released in direct-to-DVD form. The Air Buddies or Disney Buddies spin-off series began in 2006 with the release of Air Buddies and it focuses on the adventures of Air Buddy's talking golden retriever puppies.
As of 2014, there are fourteen movies in the franchise, including five in the Air Bud series, seven in the Air Buddies series, and two Christmas spin-offs of the Air Buddies series.
Air Bud films
The first two films in the franchise were released in theaters, while later entries were direct-to-DVD releases.
Air Buddies films
The Air Buddies films focus on Buddy's puppies, and they were all direct-to-DVD / Blu-ray releases.
Spin-offs
The Search for Santa Paws is a spin-off of the Air Buddies series and a prequel to Santa Buddies. The Buddies are not in these movies.
The Search for Santa Paws (2010) – When Santa is in trouble, Paws has to save Christmas with the help of some friends.
Santa Paws 2: The Santa Pups (2012) – When Mrs. Claus travels to Pineville, the playful Santa Pups stow away on her sled. Taking mischief to a whole new level, they begin granting joyful wishes to Pineville's boys and girls, but something goes terribly wrong - the Christmas spirit begins to disappear. Now the Santa Pups and Mrs. Claus must race to save Christmas around the world.
Ad blocker interference detected!
Wikia is a free-to-use site that makes money from advertising. We have a modified experience for viewers using ad blockers

Wikia is not accessible if you've made further modifications. Remove the custom ad blocker rule(s) and the page will load as expected.