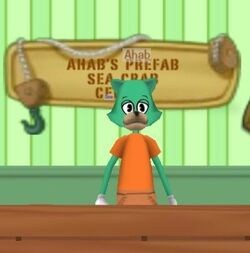 Ahab is a cat NPC (Non-Player Character) Toon in Toontown Online who owns Ahab's Prefab Sea Crab on Seaweed Street, Donald's Dock.
Ahab will give a Toontask that toons are required to see, in order to obtain their Lure/Drop Gag Track.
Ad blocker interference detected!
Wikia is a free-to-use site that makes money from advertising. We have a modified experience for viewers using ad blockers

Wikia is not accessible if you've made further modifications. Remove the custom ad blocker rule(s) and the page will load as expected.