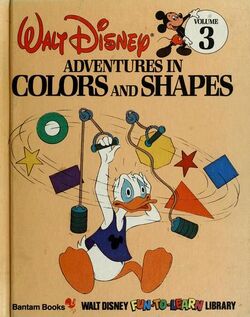 Adventures in Colors and Shapes is Volume 3 of the Walt Disney Fun-to-Learn Library.
Colors
red
yellow
blue
green
orange
purple and pink
black and white
brown
gray
Shapes
circle
square
triangle
rectangle
oval
star
heart
diamond
Mixing Colors
When you mix blue and yellow, you get green.
When you mix red and blue, you get purple.
When you mix red and yellow, you get orange.
When you mix black and white, you get gray.
When you mix red and white, you get pink.
blue and yellow make green
red and blue make purple
red and yellow make orange
black and white make gray
red and white make pink
Ad blocker interference detected!
Wikia is a free-to-use site that makes money from advertising. We have a modified experience for viewers using ad blockers

Wikia is not accessible if you've made further modifications. Remove the custom ad blocker rule(s) and the page will load as expected.