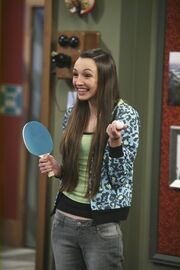 Addison (voiced by Rachel Kathryn Bell) is a character that appears on The Suite Life on Deck. Addison goes to Seven Seas High and is very hyper, especially when she's on a sugar rush. She is addicted to candy and she and Woody have crushes on each other. She was Woody's wife for the marriage project that Miss Tutweiller assigned. She is played by Rachael Kathryn Bell and is most easily recognized by her very long hair. She is first seen in International Dateline. She is last seen in Graduation on Deck. Woody and Addison go to prom together and share their first kiss.
Personality
Addison is known to be very hyper and wordy. When she talks, she does it in extreme Run-on sentences, and writes exactly how she speaks. She can get extremely happy when she is pleased, but if she is let down, she really shows it, and can get very angry, as shown in Prom Night when see thinks she hears Woody kissing another girl.
Appearances
International Dateline
Kitchen Casanova
Goin' Bananas
Marriage 101
The Play's the Thing
Prom Night
Graduation on Deck
Relationships
Friends
Bailey Pickett
Marcus Little
Romantic interests
Woody Fink - Addison and Woody have huge crushes on each other. They went together to the dance in the episode "International Dateline". In "Kitchen Casanova", they were both again shown to like each other while in Cody's cooking class. In "Marriage 101", they "marry" each other for school. Addison is shown to want to have a lot of children while Woody wants none. In her next two appearances, her relationship with Woody is not known.
Trivia
She is addicted to sugar.
On the Suite Life Graduation vote on DisneyChannel.com, the poll for "cutest couple" names her 'Maddison' instead of 'Addison'.
She has a fear of ping-pong balls.
She is the first girl Woody ever kissed although it is unknown if he was the first guy she ever kissed.
Addison is originally from Albuquerque, New Mexico.