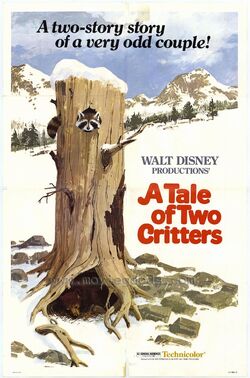 A Tale of Two Critters
is a
1977
Walt Disney Production similar to the classic animal adventures of Disney's earlier days, as well as the nostalgic Sunday night Wonderful World of Disney episodes. Narrated by Mayf Nutter,
A Tale of Two Critters
follows the thrilling adventures of an unlikely pairing between a bear cub and a raccoon as they become forced together due to a flash flood along a river in the scenic and wild Pacific Northwest. Their relationship begins haltingly, but circumstances compel them to learn to trust each other in their quest to not only survive, but to return safely to their homes. Jack Speirs wrote and produced, just one of numerous contributions he made during his 25-plus years of association with Disney. The unique folksy intros to countless Disney Productions were the work of Jack Speirs.
Cast
Production Credits