A Mom for Christmas
is a 1990 fantasy/comedy television movie directed by George T. Miller and starring
Olivia Newton-John
. Based on the book
A Mom by Magic
by Barbara Dillon, the film originally aired on
NBC
on
December 17
,
1990
. An historic home in Wyoming, Ohio (owned by Brandon and Judith Cordes) was used as the story's family setting.
Plot
The story revolves around 11-year-old Jessica (Juliet Sorcey), whose mother died when she was three years old. Her father, Jim (Doug Sheehan), is a workaholic with little time for his daughter. Just before Christmas, Jessica wins a free wish from a wishing well. Her wish for a mother for Christmas is granted by Philomena (Doris Roberts) and Amy (Olivia Newton-John), a department store mannequin that comes to life to be a mom for Jessica.
Cast
Olivia Newton-John as Amy Miller
Juliet Sorci as Jessica Slocum (credited as Juliet Sorcey)
Doug Sheehan as Jim Slocum
Doris Roberts as Philomena
Carmen Argenziano as Sergeant Morelli
Brett Harrelson as Kendall
Elliot Greenebaum as Chip Wright (credited as Elliot Moss Greenbaum)
Erica Mitchell as Stephanie Clark
Aubrey Morris as Nicholas
Jim Piddock as Wilkins
Gregory Procaccino as Detective Price
Steve Russell as Mr. Milliman
Jesse Vincent as Teddy O'Neill
DVD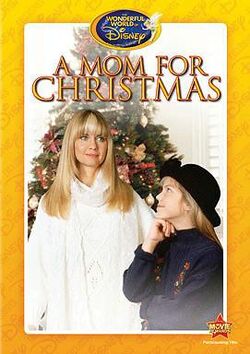 On October 21, 2008, the film was released as a Disney Movie Club exclusive DVD, available only to club members for mail or online ordering.
Gallery
External links
| | |
| --- | --- |
| | This page uses content from the English Wikipedia. The article or pieces of the original article was at A Mom for Christmas. The list of authors can be seen in the page history. As with Disney Wiki, the text of Wikipedia is available under the GNU Free Documentation License. |
Ad blocker interference detected!
Wikia is a free-to-use site that makes money from advertising. We have a modified experience for viewers using ad blockers

Wikia is not accessible if you've made further modifications. Remove the custom ad blocker rule(s) and the page will load as expected.