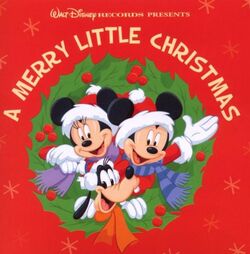 A Merry Little Christmas is a 2010 Walt Disney Records album featuring Disney versions of Christmas songs.
Editorial Reviews
So, what do you get when you gather together classic Disney characters with uplifting Christmas music? You get A Merry Little Christmas! This wonderful collection of yule tunes by toons is as exciting as a slice of pumpkin pie during the holidays and is perfect for the entire family. Listen to your Disney faves sing 'The Most Wonderful Time Of The Year', 'Rudolf The Red Nosed Reindeer', 'Jingle Bell Rock', 'White Christmas' and many others. Make your household the happiest place on earth!
Ad blocker interference detected!
Wikia is a free-to-use site that makes money from advertising. We have a modified experience for viewers using ad blockers

Wikia is not accessible if you've made further modifications. Remove the custom ad blocker rule(s) and the page will load as expected.