Ad blocker interference detected!
Wikia is a free-to-use site that makes money from advertising. We have a modified experience for viewers using ad blockers

Wikia is not accessible if you've made further modifications. Remove the custom ad blocker rule(s) and the page will load as expected.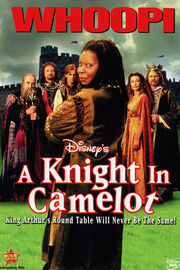 A Knight in Camelot
is a 1998 TV movie starring
Whoopi Goldberg
and
Michael York
. It was directed by Roger Young, distributed by
Disney
and is loosely based on
Mark Twain
's
A Connecticut Yankee in King Arthur's Court
.
Plot
Scientist Vivien Morgan is zapped back to the medieval age and time of King Arthur and Camelot, when her scientific machine malfunctions. She is sent back along with many objects from her desk, including her laptop and boom box. As she is sentenced to be burned at the stake, she discoveres among the laptop-data, that there will be a solar eclipse in short time. With her "magical powers" she makes the sun re-appear and is being knighted by King Arthur as Sir Boss and becomes a member of the Knights of the Round Table. She soon begins constructing devices that will not be present for many centuries, she saves the king, defeats Sir Sagramore and saves the day countless times before being zapped back to the present.
Cast
Whoopi Goldberg as Dr. Vivien Morgan
Paloma Baeza as Sandy
Simon Fenton as Clarence
James Coombes as Sir Lancelot
Robert Addie as Sir Sagramour
Amanda Donohoe as Queen Guinevere
Gallery
External links
| | |
| --- | --- |
| | This page uses content from the English Wikipedia. The article or pieces of the original article was at A Knight in Camelot. The list of authors can be seen in the page history. As with Disney Wiki, the text of Wikipedia is available under the GNU Free Documentation License. |