Ad blocker interference detected!
Wikia is a free-to-use site that makes money from advertising. We have a modified experience for viewers using ad blockers

Wikia is not accessible if you've made further modifications. Remove the custom ad blocker rule(s) and the page will load as expected.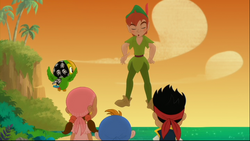 "A Friend in Never Land" is the closing song in Jake and the Never Land Pirates: Peter Pan Returns, when Peter Pan says goodbye to Jake, Izzy, Cubby, and Skully and flies off to another place.
Lyrics
Peter: Goodbye for now, friends I must fly away
I will return wait and see
Adventure will bring us together again
'Cause crewmates forever we'll be
Bold-hearted pirates and friends are you all
So merry, so clever, so true
If ever you need me, I won't be far away
Count on me, I'll count on you
A treasure is waiting there for us to find
Our friendship will show us the way
A voyage beginning now it must be time
Mateys, it's anchors away
Call on your crewmates when you need a hand
You're never far from a friend in Never Land
Set sail together, or fly with Peter Pan
You're never far from a friend in Never Land
You're never far from a friend in Never Land
You're never far
From a friend in Never Land