Ad blocker interference detected!
Wikia is a free-to-use site that makes money from advertising. We have a modified experience for viewers using ad blockers

Wikia is not accessible if you've made further modifications. Remove the custom ad blocker rule(s) and the page will load as expected.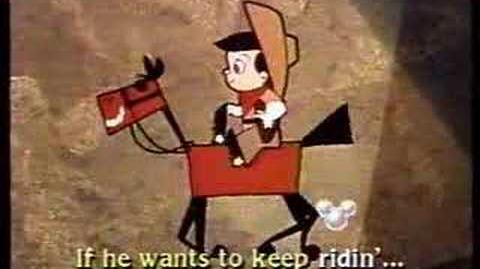 "
A Cowboy Needs a Horse
" is the name of a song from the
1956 short of the same name
.
Words and Music by Paul Mason Howard and Billy Mills
This song is on the videos of Disney Sing Along Songs: Heigh-Ho and Disney Sing Along Songs: Little Patch of Heaven.
Lyrics
Oo-wee, oo-wee, o-wee, oo-wee
Ridin', ridin' along

Oh, a cowboy needs a horse, needs a horse, needs a horse
And he's gotta have a rope, have a rope, have a rope 
And he oughta' have a song, have a song, have a song 
If he wants to keep ridin'
 
Now a cowboy needs a hat, needs a hat, needs a hat 
And a pair of fancy boots, fancy boots, fancy boots 
And a set of shiny spurs, shiny spurs, shiny spurs 
If he wants to keep ridin' 

Oh, the fence is long, and the sun is hot 
And the good Lord knows that a cowboy's gotta keep 
Ridin', ridin' along 

So he gets herself a horse, and a rope, and a song 
And he finds himself a hat, fancy boots, shiny spurs 
And there's nothing more he needs, or can have, or can get 
If he wants to keep ridin', ridin' along 

Spurs, shiny spurs 
Boots, fancy boots 
Sings a western song 
Ro-oh-oh-ope 
And a horse 
If he wants to keep ridin', ridin' along