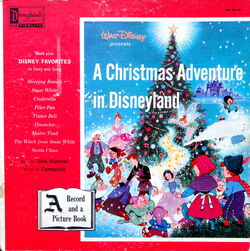 A Christmas Adventure in Disneyland is a 1958 Disneyland Records LP that features two children, named John and Jane, on an adventure at Disneyland during Christmas Eve. It was re-released in 1973.
Track listing
Side one
All Aboard For Disneyland
Disneyland At Last - Song: "The Storybook Tree" (Written-By – Camarata*)
Fantasyland "Once Upon A Dream" (Fain-Lawrence) Song: "Jingle Bones" (Huemer-Camarata)
Side two
Frontierland
Adventureland - Song: "The Jungle Tree" (Written-By – Camarata*)
Tomorrowland - Song: "Futuristic Christmas Tree" (Written-By – Camarata*)
Home At Last On Christmas Morning
Credits
Lead Vocals, Narrator – Gloria Wood
Music By – Camarata*
Written-By – Dick Huemer
Gallery
Ad blocker interference detected!
Wikia is a free-to-use site that makes money from advertising. We have a modified experience for viewers using ad blockers

Wikia is not accessible if you've made further modifications. Remove the custom ad blocker rule(s) and the page will load as expected.