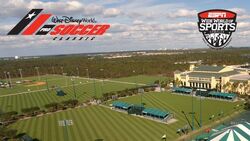 The 2014 Walt Disney World Pro Soccer Classic was the fifth edition of the Walt Disney World Pro Soccer Classic, a pre-season exhibition tournament held at the ESPN Wide World of Sports Complex at the Walt Disney World in Lake Buena Vista, Florida. The 2014 edition was reportedly set to feature a field of eight teams including 5 MLS teams, two international teams, and the Orlando City Soccer Club. However, the schedule was released with 6 MLS teams, one international team, and Orlando City Soccer Club. [1]
The defending champions are the Montreal Impact.
The 2014 tournament was won by last year's tournament runners-up, the Columbus Crew, who defeated the defending 2013 MLS Cup Champions, Sporting Kansas City, by a 4–1 score.
Teams
The following clubs have confirmed their entry into the tournament.
Team
Location
Professional League
Notes
Appearance
Ref.
Columbus Crew
Columbus, Ohio
Major League Soccer
2nd
[2]
Fluminense FC U23
Rio de Janeiro, Brazil
Campeonato Brasileiro Série A
1st
[1][3]
Montreal Impact
Montreal, Quebec
Major League Soccer
2013 WDW Pro Soccer Classic Winners
2013 Canadian Championship Winners
3rd
[4]
New York Red Bulls
Harrison, New Jersey
Major League Soccer
2013 Supporters' Shield Winners
2010 WDW Pro Soccer Classic Winners
2nd
[5]
Orlando City
Orlando, Florida
USL Pro
2013 USL Pro Winners
4th
[6]
Philadelphia Union
Chester, Pennsylvania
Major League Soccer
2nd
[7]
Sporting Kansas City
Kansas City, Kansas
Major League Soccer
2013 MLS Cup Winners
3rd
[8]
Toronto FC
Toronto, Ontario
Major League Soccer
Last Continuous Participant
5th
[1]
Matches
The schedule was released on the official website on January 13, 2014. [1]
Key to colors in group tables
Group winners advance to Final
Group Stage
Group A
| Team | Pld | W | L | D | GF | GA | GD | Pts |
| --- | --- | --- | --- | --- | --- | --- | --- | --- |
| Columbus Crew | 3 | 2 | 0 | 1 | 8 | 5 | +3 | 7 |
| Orlando City Soccer Club | 3 | 0 | 0 | 3 | 6 | 6 | 0 | 3 |
| Philadelphia Union | 3 | 0 | 1 | 2 | 1 | 2 | -1 | 2 |
| Toronto FC | 3 | 0 | 1 | 2 | 2 | 4 | -2 | 2 |
Template:Footballbox collapsible Template:Footballbox collapsible Template:Footballbox collapsible Template:Footballbox collapsible Template:Footballbox collapsible Template:Footballbox collapsible
Group B
| Team | Pld | W | L | D | GF | GA | GD | Pts |
| --- | --- | --- | --- | --- | --- | --- | --- | --- |
| Sporting Kansas City | 3 | 3 | 0 | 0 | 7 | 2 | +5 | 9 |
| New York Red Bulls | 3 | 2 | 1 | 0 | 4 | 1 | +3 | 6 |
| Montreal Impact | 3 | 1 | 2 | 0 | 3 | 6 | -3 | 3 |
| Fluminense FC U23 | 3 | 0 | 3 | 0 | 0 | 5 | -5 | 0 |
Template:Footballbox collapsible Template:Footballbox collapsible Template:Footballbox collapsible Template:Footballbox collapsible Template:Footballbox collapsible Template:Footballbox collapsible
Championship round
Template:Footballbox collapsible Template:Footballbox collapsible Template:Footballbox collapsible Template:Footballbox collapsible
Notes
References
External links