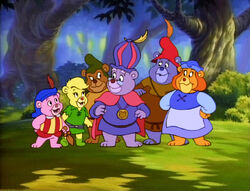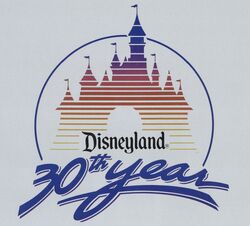 Events
Theatrical releases
Shorts
Television
September 14 - Disney's Adventures of the Gummi Bears premieres on Saturday mornings on NBC and The Wuzzles on CBS. Though Disney had a presence on TV since 1954, the company had never attempted to create its own animated shows due to the high cost of animation. With some computer assistance and other techniques that saved time and money, Disney finally entered the field with this venture. The animation was still of a remarkably higher quality than most other animated offerings of the time, and this show helped pave the way for Disney shows that would air daily instead of just weekly, such as DuckTales.
Books
Storybooks
VHS releases
March 26 - The Fabulous Fleischer Folio Volume One, Love Leads The Way, The Gnome Mobile and Asterix the Gaul
April 23 - Walt Disney Cartoon Classics Vol. 11: The Continuing Adventures of Chip 'n' Dale, Featuring Donald Duck and Vol. 12: Disney's Tall Tales, The Further Adventures of SuperTed and Country
June 25 - Walt Disney Cartoon Classics Limited Gold Edition II: Donald's Bee Pictures, The World According to Goofy, The Disney Dream Factory: 1933-1938, An Officer and a Duck, How the Best Was Won: 1933-1960, Life with Mickey! and From Pluto with Love
July 16 - Pinocchio, The Sword and the Rose, Never a Dull Moment, Paddington Bear: Volume One, SuperTed III: The Adventure Continues, Candleshoe, The Fabulous Fleischer Folio Volume Two and Black Arrow

,

September 3 - The Shaggy D.A.

, 

Ben Vereen in Breakin Through, Paddington Bear Volume Two and Asterix and Cleopatra
December 3 - Dumbo, The Black Hole, Mary Poppins, Old Yeller, Pete's Dragon, The Love Bug, Herbie Goes Bananas, Herbie Rides Again, Herbie Goes to Monte Carlo, The Gnome-Mobile (re-issue), Tron, Babes in Toyland, Swiss Family Robinson, Pollyanna, Darby O'Gill and the Little People (re-issue), Baby: Secret of the Lost Legend, Paddington Bear: Volume Three and Four, SuperTed IV: New Intergalatic Adventures, The Barefoot Executive, Those Calloways, Now You See Him, Now You Don't, Rob Roy, the Highland Rogue, The Computer Wore Tennis Shoes, The Three Lives of Thomasina, Return to Oz, The Legend of Lobo, Charlie, the Lonesome Cougar, The Vanishing Prairie, White Wilderness and Secrets of Life
Direct-to-video releases
Theme Park happenings
People
Births
Deaths
Artists Joined
Character debuts
Ad blocker interference detected!
Wikia is a free-to-use site that makes money from advertising. We have a modified experience for viewers using ad blockers

Wikia is not accessible if you've made further modifications. Remove the custom ad blocker rule(s) and the page will load as expected.