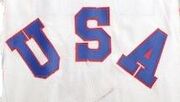 The
1980 USA Olympic Team
is the hockey team that is featured in the film
Miracle
.
History
In 1980, the United States Ice Hockey team's coach, Herb Brooks, took a ragtag squad of college kids up against the legendary juggernaut from the Soviet Union at the Olympic Games. Brooks started with a handpicked group of 26 undisciplined kids, Brooks coached them to play like they never played before, and turned 20 of them into a team that believed they could achieve the unachievable -- and in the process, united a nation with a new feeling of hope.
Roster
Huges
Ross
Auge
Delich
Horsch
Eric Strobel
Steve Christoff
Ken Morrow
Bob Suter
Mike Ramsey
Steve Janaszak
Dace Christian
Mark Pavelich
Phil Verchota
Bill Baker
John "Bah" Harrington
Buzz Schneider
Jack O'Callahan
Rob McClanahan
Dave Silk
Mark Johnson
Jim Craig
Ralph Cox
Mike Eruzione
Ad blocker interference detected!
Wikia is a free-to-use site that makes money from advertising. We have a modified experience for viewers using ad blockers

Wikia is not accessible if you've made further modifications. Remove the custom ad blocker rule(s) and the page will load as expected.